Shipping by Freight Carrier: If you plan to ship your gauge by freight carrier, download the Bill of Lading (BOL) form from our website here: Bill of Lading (download). Fill out the form completely. This form needs to be attached to the outside of the nuclear gauge shipping case during shipment. We use R&L as our shipper and the Bill of Lading download reflects that. This form has our shipping information filled in, you just need to complete the form with your information and use the drop down menus to auto fill-in the shipment information.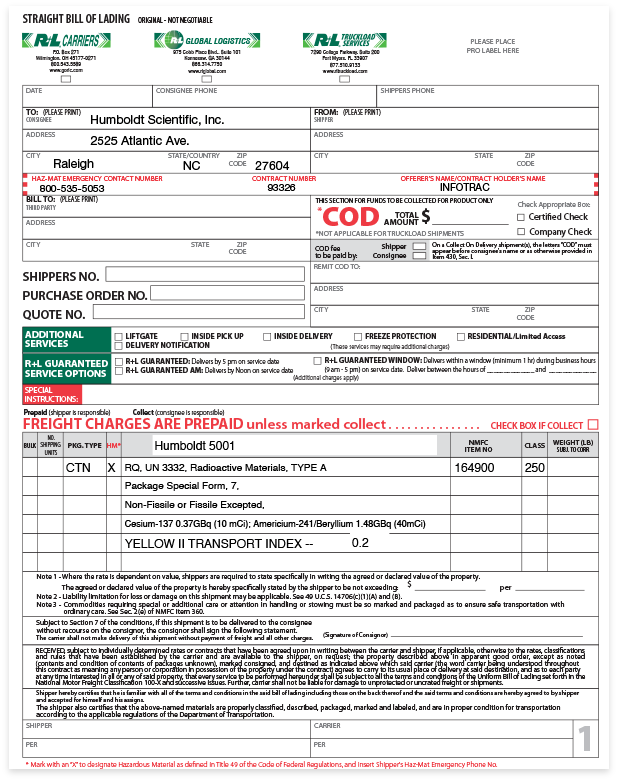 To populate the correct HazMat Shipping information for the gauge(s) you are shipping, select the appropriate gauge type from the drop down menu, located in the Description of Articles field.
If you are shipping multiple gauges, use a separate form for each type of gauge. You can ship multiple gauges of the same model on a single form, but different model gauges must be on a separate form. The form will automatically calculate the total weight of multiple gauges.
The form will fill out the Transport Index number based on your gauge type choice.
If there are multiple documents, fill in the page numbers at the top right of the forms.
Print TWO (2) copies of each BOL needed and sign on the "Signature of Consignor" line and next to "Shipper" at the bottom left-hand side of the page.
To schedule a pick up, contact R&L at 1.800.543.5589, or visit their website at: www.rlcarriers.com. All shipping costs will appear on your final invoice.
Give ONE set of the BOL to the R&L Carrier's driver, and keep ONE set of the BOL for your records.